Those who have graced my door know all too well how big of a tea drinker I am... every few months I stock up my cupboards with classic teas and current favorites and a couple new treats to sample. When I have company over I'm quick to make everyone a hot beverage and yea I can be a bit of a tea pusher. When I approached
Eden Foods
about doing a product review, they offered me a selection to choose from and as soon as I seen the words "Sencha Mint Green Tea", I instantly became excited. In case you are wondering, Sencha Mint is a unique blend of Japanese organic green tea leaves, with Egyptian organic spearmint and organic peppermint leaves.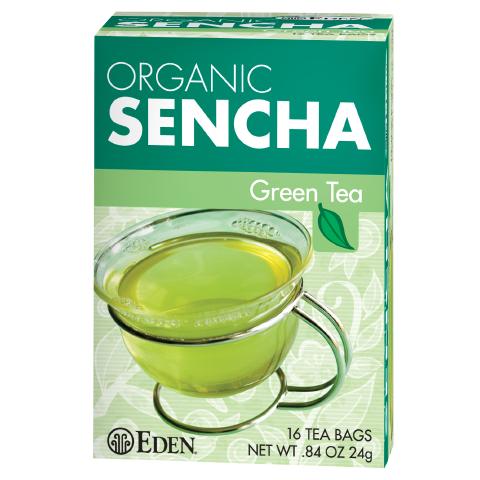 This box arrived last week and it is almost gone. I have made pot after pot of this tea and shared it with friends. I haven't encountered one tea drinker yet who didn't care for it. I serve it without milk or any kind of sweetener. The sweetness of the spearmint and mint are enough. The brew is very strong and I can re-steep the same bag a few times.
One thing I noticed about the packaging that caught my eye and made me feel all warm inside was that not only was the box printed on recycled cardboard, but it was printed with vegetable ink!
Their catalog has over 250 items listed and you can
download a .pdf or request a print copy here.
With that large of a selection, I wonder what their other products taste like!