I recently stumbled across the most delightful Etsy shop.
Madame Scodioli Bearded Proprietor
has a wonderful line of solid perfumes and shaving soaps made with natural ingredients. The shop, product descriptions and visual artwork carries you away to a small gypsy caravan where Madame Scodioli charms you with her luxuriously scented potions. The magic of the carnival, the music and the memorizing people grant you a freedom that you have only felt fully now for the first time in your life.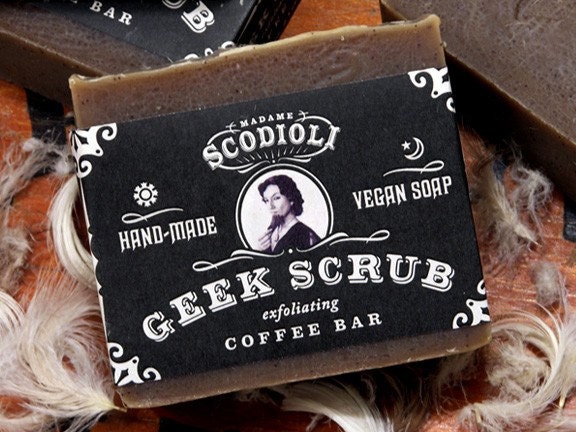 I contacted Madame Scodioli about reviewing a product and she graciously sent me a full sized
Clofullia
solid scent and samples of
Gypsy Caravan
and
Drabardi
to review. I also had to ask about the product branding because I found it very impressive and Madame S. informed me that her assistant is a graphic designer.
The solid perfumes are deliciously pleasing to my senses. Since they are crafted with natural ingredients there is no chemical irritant to mangle my sensitive snout, which is great for the obvious reason... and also because I can now live with my nose buried in these wonderful scents.
One of her more complex scents,
Clofullia
is crafted with jasmine, patchouli and orange. Jasmine is the first scent that hits you, so those of you who don't care for floral scents might find this discouraging. As you breath deeper the patchouli and orange undertones surface creating depth and balance within this scent. I highly recommended this to Jasmine lovers.
Drabardi
is a very relaxing and uplifting scent. The bergamot is calming and the coriander gives a very complimentary spicy lemon scent. I adore it and I think it will get put to good use this winter as part of my plan to alleviate the winter blues. I find myself opening up the container and getting a whiff of it when I feel a little down in the dumps or anxious.
Gypsy Caravan
is my favorite of the 3 scents. Romantic, captivating and sweet scent oozing with fresh, ripe pomegranates. Madame S has captured the essence of two lovers sharing a blanket, feeding each other pomegranates seeds over a bottle of wine at sunset in a field of fruit trees and wildflowers.
Madame Scodioli also offers sampler packs for those of you who do not wish to commit to a full sized scent without smelling it first. The samples are a good size and will last for awhile. So if you are unsure, this is a great way to try out the different scents and still have some duration of use.
I am so very impressed with this shop, I plan on ordering a couple full sized solid oils in Gypsy Caravan because it is wonderfully intoxicating and also some samples of the scents I haven't tried yet to see what else I enjoy! Please I encourage you all to buy something from
Madame Scodioli's Bearded Proprietor
.
Disclaimer: I received samples of these products for the purpose of this review. All opinions are based upon my honest product experience.